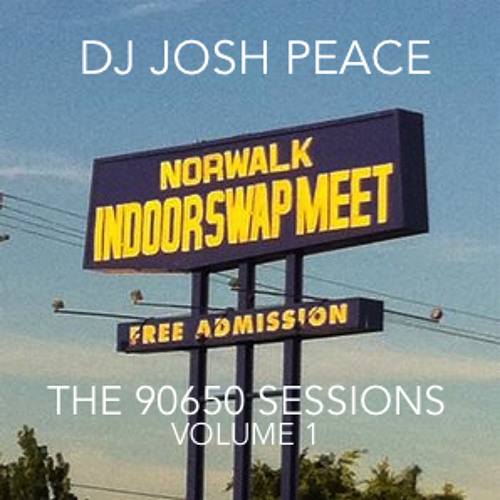 DJ JOSH PEACE - THE 90650 SESSIONS, VOLUME 1 (mixtape)
Stories of my childhood. Songs of my teenage years. The sounds of my life growing up in Norwalk, CA 90650.

TRACKLISTING:

Ann-Margret - Let Me Entertain You (JP Draked Flip) [2013]
Rozalla - Are You Ready To Fly (Rainbow Mix) [1992]
Technotronic feat. Ya Kid K - Get Up (Before The Night Is Over) (Dance Action Mix) [1990]
Culture Beat - I Like You (London Mix) [1990]
The Adventures of Stevie V. - Dirty Cash (Money Talks) (Sold Out Mix) [1990]
K.W.S. - Please Don't Go (Sunshine Mix) [1992]
Queen Latifah - Come Into My House [1990]
Black Box feat. Martha Wash - I Don't Know Anybody Else (DJ Lelewel Mix) [1990]
Madonna - Deeper and Deeper (Shep's Classic 12" Mix) [1992]
Bjork - There's More To Life Than This (Non-Toilet Mix) [1993]
Daisy Dee - Crazy (Dizzy Mix) [1991]
Jomanda - Got A Love For You (Steve Silk Hurley House Mix) [1991]
Nightcrawlers - Push The Feeling On (MK Dub Of Doom) [1992]
Dajae - U Got Me Up (Cajmere Underground Goodies Mix) [1993]
C.J. Bolland - Sugar Is Sweeter (Armand Van Helden Drum & Bass Mix) [1996]
Mariah Carey feat. O.D.B. - Fantasy (Def Club Mix + Bad Boy Mix) [1995]
Ini Kamoze - Here Come's The Hotstepper (Heartical Mix) [1994]
Janet Jackson - Go Deep [1998]
Lil' Kim feat. Angie Martinez, Da Brat, Left Eye & Missy Elliott - Not Tonight (Remix) [1997]
S.W.V. feat. Wu Tang Clan - Anything (Old Skool Party Mix) [1994]
Mark Morrison - Return Of The Mack [1996]
Jade - Don't Walk Away (JP Extended Mix) [1992]
CeCe Peniston - Keep On Walkin' (Extended Mix) [1992]
Foxy Brown feat. Blackstreet - Get Me Home (Wicked Mix) [1996]
Digable Planets - Rebirth Of Slick (Cool Like Dat) [1992]
En Vogue - Hold On (Extended Mix) [1990]
T.L.C. - Creep [1994]
Adina Howard - Freak Like Me [1994]
Aaliyah - Back & Forth [1994]
SAM SPARRO - MECHANICAL (mixtape)
The sickest mixtape artwork I've seen in a hot fucking minute. Get into the latest offering from Sam Sparro, featuring new tracks from his upcoming album "Quantum Physical". You would want to. Trust. =)

TRACKLIST:
Latch & Gold – Sam Sparro/Disclosure f. Sam Smith
Latch (T. Williams Club Remix) – Disclosure f. Sam Smith
Right Now – Rihanna f. David Guetta
Bitch Don't Kill My Vibe (Fare Soldi Mix) – Kendrick Lamar
Are You That Somebody (Moduloktopus ReTwerk) – Aaliyah
Fascism – Sam Sparro
Kerpow – XXXY
Happiness (Acappella) – Sam Sparro
Closer Than Close (Mentor Club Mix) – Rosie Gaines
Hang On 2 Your Love – Sam Sparro f. Durand Bernarr
That's Way Love Goes Refix – MNEK
Glow In The Dark - Bloody Beetroots f. Sam Sparro
Oh Sheit It's X – Thundercat
Take Me Up High (True2Life Re-Flex) – Lady Bunny
Entrance Song – Eats Everything
Infinite (Rough Mix) – Sam Sparro
HI FASHION - LIGHTHOUSE (music video)
I recently lost my brother after a lengthy battle with liver disease. Our relationship was difficult to summarize because it was complicated. He lived a live full of major ups and downs but my love for him was unconditional, beginning to end.
I'm fortunate to have some incredibly talented friends who make beautiful art and write amazing songs that mange to strike the right nerve at exactly the right time. "Lighthouse" by Hi Fashion is that song for me. It perfectly encapsulates the way I feel about my brother and the bond we shared in the final years of his life.
Produced by Lou Becker and directed by Nina McNeely, with choreography by Danny Dolan, please enjoy the glorious music video. =)
Taken from the "You Are Gorgeous" E.P. available on iTunes.
DEEE-CONSTRUCTED: A Deee-Lite Mix by DJ Josh Peace
A fitting tribute I concocted back in 2006 to one of my favorite groups of all time. This is me being completely selfish and putting in all my favorites….with my own twist of course.
I took my time making this mix, spending over 3 months mixing and editing and editing and editing. I was limited to 80 minutes, which is maximum length of audio you can put on a CD, so I had to be extra choosy in my selections.
Ultimately I was really happy with the finished product and Lady Kier has given her seal of approval so I'm satisfied. =)
tumblrbot asked: WHERE WOULD YOU MOST LIKE TO VISIT ON YOUR PLANET?
Willy Wonka's Chocolate Factory =)